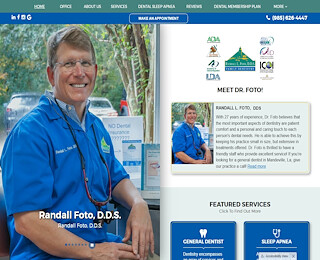 Can a General Dentist Provide Orthodontic Treatment?
A general dentist committed to completing the training and education necessary to become an orthodontist can provide orthodontic dentistry as one of their services- and there may be a few unique advantages to choosing a general dentist for your orthodontic care. Patients wearing braces require routine checkups and cleanings from a general dentist, so it makes perfect sense to select one dentist who can provide both services. If you're searching for a qualified orthodontist in Mandeville, LA, consider Dr. Randall Foto.
Is It Important Which Dentist I Choose For Orthodontic Treatment?
One of the most important decisions you'll make in the process of determining whether you need to have your teeth straightened is your choice of specialists. In your search for an affordable orthodontist, consider the following advice experts commonly provide to patients:
Find an orthodontist practicing in a convenient location
Work with an orthodontist willing to take your budget into account
Look at all available options, from conventional braces to innovative, removable braces
Set up a consultation appointment to ask questions and meet with the staff of your prospective orthodontist in Mandeville, LA.
Do I Need a Referral From My Dentist to See an Orthodontist?
In most cases, it's not necessary to request a referral for orthodontic treatment; however, a professional referral can eliminate the headaches that come from visiting a less-than-reputable orthodontist. As a General Dentist and Orthodontist Specialist, Dr. Randall Foto offers convenient access to the latest orthodontic technology and procedures. Patients of all ages prefer clear, removable Invisalign braces- and we recommend them for the following amenities associated with treatment:
Invisalign's clear plastic aligners with smooth edges feel more comfortable than metal brackets and wires
Removable aligners provide respite from wearing braces day and night- take them out for up to two hours each day.
Discreet Invisalign eliminates peer pressure and improves your patient experience, allowing you to smile more naturally during treatment
No wires or adjustments significantly reduces office visit lengths
Remove aligners for brushing & flossing, eating, and sports activity
How Do I Choose a Reputable Orthodontist in Mandeville, LA?
Dental care experts highly recommend obtaining a personal referral from a friend or family member as the most reliable way to select an orthodontist. In many cases, a referral can result in a special discount or cost savings for the patient- best of all, you'll have peace of mind that the braces specialist you choose comes recommended by someone you know and trust.
Meet with Dr. Randall Foto and his staff to discuss treatment options if you suspect you or your teenager needs braces. We offer a free consult to determine candidacy for treatment and provide additional information for you to take home and talk over with your family. New technology braces are an affordable way to straighten teeth, close gaps, and improve the appearance of your smile- and without the metal brackets, bands, and wires, modern braces are more comfortable than ever before.
Orthodontist Mandeville LA
Foto Randall L DDS
9856264447
645 Lotus Dr b, Mandeville, LA 70471
View Larger Map